As 2021 draws nearer, it's safe to say that the new year will treat us to more virtual performances and content tailored to our at-home viewing pleasure on the ever-expanding cornucopia of streaming platforms. From Netflix and HBO Max to Apple TV+ and Disney+, streaming platforms showered us with variety specials, concert films, music documentaries, visual albums, and more. The COVID-19 pandemic forced us all to get creative, but for the world's biggest music stars, the word "creative" took on a very specific meaning. In an industry built around meticulously planned rollouts and promotional campaigns, how do you keep people interested in album or single when the major traditional promotional outlets are unavailable? How do you handle touring and live performances when award shows have gone virtual and arenas and stadiums are indefinitely closed? Whatever the medium, the content we got from music's biggest stars ranged from derivative to inventive. Some of these projects were likely set for a 2020 release before the pandemic, but studying the different approaches artists took in terms of content creation and distribution can help us figure out what works and what doesn't. After all, the hyper-virtualness of the world isn't going to magically disappear in 2021.
1. Ariana Grande Teams Up With Netflix for excuse me, i love you Concert Film
On the one year anniversary of the penultimate show on her Sweetener World Tour, Ariana Grande dropped excuse me, i love you, a concert film. Ariana's been characteristically busy this year, dropping three #1 singles ("Rain On Me," "Stuck With U," and "positions") and her sixth chart-busting album, Positions. Concert films have been around forever and excuse me, i love you fits nicely in that lexicon. It's a standard eye-popping sugar-coated show from pop music's biggest star. Ariana's voice is clearly the star of the show as the film sees her tearing through the tour's 30-song setlist with remarkable consistency. It certainly can't be easy to sing such vocally challenging songs while running and dancing in heels that high. It's important to note, however, that excuse me, i love you is a concert film and not a documentary. The film is interspersed with brief moments that offer intimate looks at the bond between Ariana and her tour crew and what else was going on in her career at the time of the tour. Think of it like 80% concert and 20% behind-the-scenes footage. It's not a documentary in the way that Beyoncé's Homecoming was or in the way that other entries on this overview are. It would have been nice to see more of the creative process behind the tour and more rehearsal footage, but the film is enjoyable for what it is. This was a project for the fans. Ariana has had yet another career-defining year and excuse me, i love you is a great way to bring it to a close. You can watch 'excuse me, i love you' exclusively on Netflix. The accompanying live album, 'k, bye for now,' title is available on all DSPs.
Verdict: HIT
2. Taylor Swift Heads to Disney+ for folklore: the long pond studio sessions
Taylor Swift piled on the content in 2020. In addition to two surprise albums, the 5x Grammy-nominated folklore and the #1-debuting evermore, she teamed up with Disney+ for folklore: the long pond studio sessions. The film is equal parts live concert and making-of documentary. Featuring appearances from a few of folklore's major collaborators (Jack Antonoff, Justin Vernon, and Aaron Dessner), the film explores how Taylor crafted and recorded the album in the height of lockdown. We get intimate looks at new technology, Taylor's writing process, and how the folklore dream team came to be. Taylor also performs every song on the album (including the bonus track!) live with the album's collaborators as her backing band. If you didn't love folklore already, the long pond studio sessions will give you no choice but to. In recent years, opportunities for (relatively) unfiltered looks into the creative processes behind albums from music's biggest stars have been few and far between. Luckily, folklore: the long pond studio sessions quenches that thirst. Here's to a sequel for evermore in 2021. 'Folklore: the long pond studio sessions' is exclusively streaming on Disney+. The accompanying live album of the same title is available on all DSPs.
Verdict: HIT
3. Dua Lipa Tests Out the Virtual Concert Format with 'Studio 2054'
With her Grammy-nominated "Don't Start Now" dominating charts around the world and "Physical," "Break My Heart," and "Levitating" waiting in the wings to do some damage of their own, things looked bright for Dua Lipa's Future Nostalgia era at the beginning of the year. And then the pandemic got serious. From animated music videos to a remix album titled Club Future Nostalgia, Dua's era lost its footing for a bit, and understandably so. The era finally got back on track with the triumphant Studio 2054. Featuring appearances from Kylie Minogue, FKA twigs, Elton John, Bad Bunny, J Balvin, Miley Cyrus, and The Blessed Madonna, Studio 2054 was live-streamed from a massive warehouse in London. Tickets went for just $10 and the show drew around 8.5 million viewers, a new record for a paid livestream event. From the art direction to the set design, the concert perfectly captured the feeling of "future nostalgia"; it was a modern take of the iconic Studio 54 that kept the energy high the whole time. The setlist featured songs from Dua's eponymous debut and Future Nostalgia as well as performances of her 2020 collaborations "Prisoner" and "Una Día." In one of the four livestreams, Kylie Minogue performed "Real Groove" from her DISCO album, Elton John performed "Rocket Man," and FKA twigs performed a currently unreleased collaboration with Dua herself. Studio 2054 was arguably the most well put together livestream concert of the year. It's a great blueprint for pop stars considering this route in 2021.
Verdict: HIT
4. Shawn Mendes Brings His In Wonder Documentary Netflix
In tandem with the promotional campaign of his fourth studio album, Wonder, Grammy-nominated Canadian pop sensation Shawn Mendes launched his first documentary feature with Netflix, Shawn Mendes: In Wonder. Directed by Grant Singer, the film follows Shawn on tour, at home with his family, his relationship with Camila Cabello, the studio sessions for Wonder, and his battles with anxiety. In Wonder wasn't created with the impact of the pandemic looming over it, but it did happen to be released in the midst of it. Music documentaries are normally rich with content that covers a lot of ground but still delivers insightful moments centered on the music and the artist. Unfortunately, In Wonder says a whole lot of nothing over its one-and-a-half-hour runtime. The climax of the film falls flat, the relationship bits are a bore, and Shawn isn't really the most interesting person to watch. Let this be a lesson that not every musical artist needs a documentary. Nevertheless, In Wonder is sure to be a treat for Shawn Mendes fans around the world. 'Shawn Mendes: In Wonder' is streaming exclusively on Netflix.
Verdict: MISS
5. BLACKPINK and Netflix Light Up The Sky
Yep, Netflix strikes again! This time, the streaming giant linked up with the world's biggest girl group, BLACKPINK, for a documentary that chronicled the journey of each of the group's four members through the K-Pop training industry to world domination. For those with little to no frame of reference or knowledge of BLACKPINK or the K-Pop industry at large, Light Up The Sky finds a way to be as informative as it is entertaining. Directed by Emmy-nominated director Caroline Suh, the film gets up close and personal with each member of the group as it follows their respective paths to BLACKPINK, their strengths and weaknesses on stage and in the studio, and the dynamic that they have formed over the years. In K-Pop, "idols" feel larger than life, so it's important that the film takes time to humanize the girls. Released just two weeks after the group dropped their debut album, The Album, BLACKPINK: Light Up the Sky makes history as Netflix's first original K-Pop content. The film could have benefitted from a deeper dive into the life of trainees and the impact that sort of living has on the psyche of the performers, but, overall, Light Up the Sky does a fine job at dispelling some of the biggest stereotypes of K-Pop. 'BLACKPINK: Light Up the Sky' is streaming exclusively on Netflix.
Verdict: HIT
6. Beyoncé Brings the Magic of Black Is King to Disney+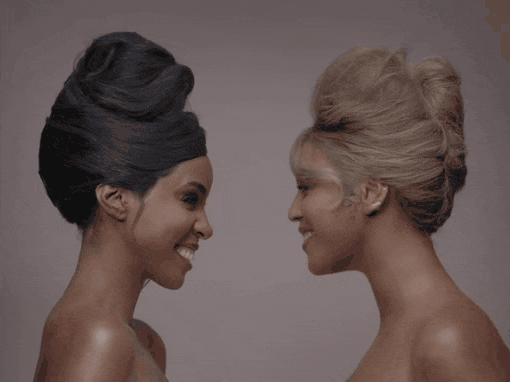 As if starring as the voice of Nala in the 2019 photorealistic remake of The Lion King and recording and curating an entire album inspired by the film wasn't enough, Beyoncé had more in store for us in 2020. In typical Queen Bey fashion, where there's an album, there's a grand visual to accompany it. Beyoncé is no stranger to teaming up with streaming platforms to deliver content to her loyal Beyhive. From concert films (On the Run Tour: Beyoncé & Jay-Z), visual albums (Lemonade), and documentaries (Life is But a Dream) with HBO and her culture-shifting Homecoming with Netflix, Black Is King joins a rich legacy of Beyoncé visual projects. Black Is King reimagines the story of The Lion King through the music of her 2019 The Lion King: The Gift album. Featuring graceful acting performances from Folajomi "FJ" Akinmurele (Young Simba), Nyaniso Ntsikelelo Dzedze (Adult Simba), Warren Masemola (Scar), Mary Twala (Rafiki), and Stephen Ojo (The Blue Man), and appearances from the likes of Yemi Alade, Wizkid, and Tiwa Savage, Black Is King was nothing short of a heartfelt extravaganza celebrating the legacy, beauty, and excellence of Black people and Africa. It's no wonder the film scored a Grammy nomination for Best Music Film and the "BROWN SKIN GIRL" segment was recognized in the Best Music Video category. From the fashion and choreography to the cinematography and score, Black Is King is one of 2020's greatest films. The fact that we had the time to sit down and dissect this body of work was one of the brief silver linings of lockdown life. 'BLACK IS KING' is streaming exclusively on Disney+.
Verdict: HIT
7. The Weeknd & TikTok Deliver Virtual Live Concert
If anyone adapted to pandemic promotion life effortlessly, it was The Weeknd. From a slew of remixes and bonus tracks to immersive interconnected music videos, the After Hours era went on without a hitch. In lieu of a traditional tour to support the album, The Weeknd teamed up with Wave and TikTok to bring viewers "The Weeknd Experience." The concert saw The Weeknd joining a growing list of artists (Tinashe, John Legend, etc.) teaming up with Wave and taking advantage of their interactive virtual entertainment tools. The Weeknd assumed digital avatar form for the concert which featured performances of hits like "Blinding Lights" and a special guest appearance from Doja Cat for their "In Your Eyes" remix. The broadcast also sported interactive portions where fans could vote in the comment section to guide the loose narrative of the show. "The Weeknd Experience" was a natural blend of the aesthetic of the After Hours album with the technologically forward-thinking mindset of an artist and their team in a year like 2020. What's more? The livestream drew over 2 million viewers and raised $350,000 for the Equal Justice Initiative through the sale of an exclusive Weeknd x TikTok merchandise capsule collection.
Verdict: HIT
8. Brandy & Summer Walker Give Pandora Some Soul
On the first day of December, Pandora launched their "Pandora Live: Sounds of Soul" virtual event featuring the legendary Brandy and the Billboard chart-topping Summer Walker. The convergence of two generations of R&B titans made for a night of great music. The show featured sets from both Summer and Brandy, but it was primarily structured around the latter. The livestream included an interview segment built around photos from the early years of Brandy's career, a virtual meet-and-greet, and an exclusive animated short about Brandy's life. Brandy performed a number of songs including "Sittin' Up In My Room" and "Borderline," which I named the tenth-best song of 2020. Summer Walker's comparatively awkward performance featured a guest appearance from NO1-NOAH as he popped by for a rendition of "SWV" from her Life On Earth EP. The splicing of Brandy's performances with the other segments of the show made for a disjointed experience. It would have made more sense to air Brandy's set in its entirety and then follow with the other segments. Furthermore, if you were going into the show based on the graphics instead of doing a quick Google search about the event, you may have expected a more concert-like show with interaction between Brandy and Summer. Despite a few kinks, nothing can stop good music from giving us a good time.
Verdict: ON THE FENCE
9. VERZUZ
If you haven't seen a VERZUZ battle yet, you've definitely heard of one. If you haven't heard of one, then I'm not sure what to tell you. In the height of lockdown, some of R&B and hip-hop's most legendary producers and songwriters (Teddy Riley, Babyface, The-Dream, Jhontá Austin, etc.) hopped on Instagram Live and decided to show off their discographies. Each producer/songwriter would play a song that they helped create and tell a backstory related to the record. These Instagram Lives, as glitchy and as janky as they were, were genuine moments of musical appreciation and edification. It was a celebration of often unsung heroes of Black music. For better or for worse, Swizz Beatz, Timbaland, Revolt, and Apple meddled with the original concept of the Instagram Lives and corrupted them into a brand called VERZUZ. What began as Instagram Lives directly from the producer's homes turned into expensive productions that saw matchups happening in person with an increased focus on artists (Patti Labelle, Gladys Knight, DMX, Snoop Dogg, etc.) instead of songwriters and producers. It all crashed and burned with the recently rescheduled Ashanti and Keyshia Cole battle because, low and behold, Ashanti tested positive for COVID-19 and couldn't attend an event that was created to adapt to being apart. VERZUZ is still fun to watch, but it did lose the spark and charm of the early days. More interestingly, VERZUZ has become a launching pad for veteran artists to debut new music. It's basically become a new promotional spot. Jeezy's matchup with T.I. was reshuffled to be a battle with Gucci Mane (with whom he has a storied beef) that just so happened to line up with the release of his latest album, The Recession 2. On the night of her battle with Brandy, Monica launched her new single with Lil Baby, "Trenches." It's going to be incredibly interesting to see where VERZUZ goes from here since it has gained so much cultural capital in so little time.
Verdict: HIT (but bordering on MISS recently)
10. Mariah Carey Gifts A Magical Christmas to Apple TV
With Christmas just days away, I would be remiss not to mention the Queen of Christmas, Mariah Carey herself. The "All I Want For Christmas Is You" songstress has been steadily building her holiday empire for years, and it's all culminated in the spectacular Mariah Carey's Magical Christmas Special. Featuring adorable narration by Tiffany Haddish and appearances by Ariana Grande, Jennifer Hudson, Billy Eichner, Heidi Klum, Millie Bobby Brown, and more, the Apple TV+ special is filled to the brim with holiday cheer. Mariah recorded new versions of Christmas standards and holiday originals across her two Christmas albums, and she sounds absolutely fantastic. The special has everything you'd expect: Peanuts, sparkles, snow and candy cane galore, a glorious wardrobe, and a rousing encore of "All I Want For Christmas Is You" to wrap it all up. Mariah's blends notes of camp with tender moments of her and her children for a special fit for the whole family. Mariah Carey's Magical Christmas is a winner because it operates under the knowledge of the pandemic without ever letting it steal the joy and cheer that underscores the whole thing. This is simply a grand ole time. 'Mariah Carey's Magical Christmas' is streaming exclusively on Apple TV+.
Verdict: HIT